i've been playing with an idea today for encoding tabular data into images so i can throw them at a CNN (mainly because fastai.tabular seems to hate me). it's based off a paper i saw where they were literally putting the variable values into the images but i don't see the point in wasting training time getting it to understand values i can encode as colors so i use a greyscale image with colored blocks. i'm personally getting better results with blocks than numbers.
i was playing around with titanic on kaggle and so far i've managed 0.796 with resnet18 and i seem to be getting my best results on simpler architectures and minimal training (0.796 was 2 lots of 5 epochs without unfreezing).
i'm wondering if there are other architectures or training tricks i should be looking at for something so simple. my data looks like this.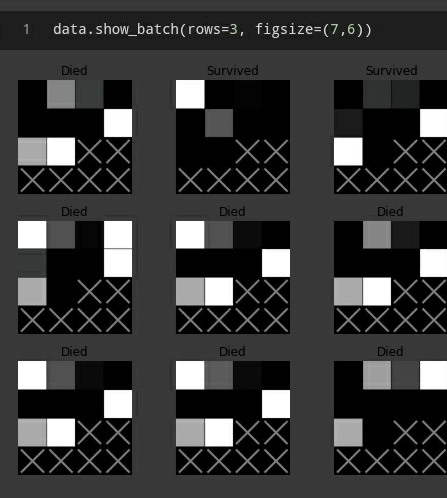 there will be a blog post and a repo with some code when i'm done but google drive and colab are throwing a hissy-fit so i'm done for today.
any suggestions?