Hello everyone
So I'm trying to replicate Jeremy's results using Fast.ai on a dataset which is really different from the kind of pictures resnet has been trained on.
I'm using this dataset : Chest Xray, which contains xray from people having pneumonia or not (binary classification).
The dataset is not big and has 5216 training images which are unbalanced (3875 pneumonia / 1341 normal), and a validation set of 624 images.
So I'm trying to follow what Jeremy did when he used satellite images with transfer learning on Resnet34 (lesson2-image_models).
But no matter what I try my model never generalizes. My training loss and validation loss are diverging almost immediately, and my training loss << validation loss. So I'm overfitting.
I tried to change the size of the images because my guess was that starting at a size of 64 was too little for X-ray scans, I tried to bump the dropout to 0.75. I increased and decreased batch size, and try to not use data augmentation. But nothing worked, my model always overfit when training the last layers. Here's a picture of what it look likes :
No matter the hyperparameters it is always the same pattern where my trn_loss and val_loss start high and my training loss then decreases but my validation loss stays the same or increases.
I also tried to unfreeze the pre-trained layers and train them with differential learning rates but it just made thing worse. Here's one example :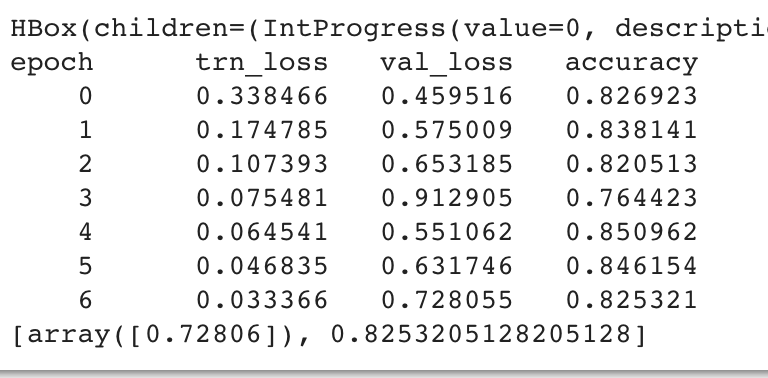 So at that point, am I right to think that resnet34 (I also tried with vgg16) pre-trained on ImageNet don't work with that dataset of xray scans ? Or maybe I need to work on the scans themself before feeding them into the model ?
What are the best practices when our model is prone to overfit ? Maybe there are other things to tweak to try and make that work ?
I also have a question regarding overfitting. Can a model during training recover automatically from overfitting ? Let's say that the training loss start decreasing and the validation loss increasing, should I stop the model right away and change my hyperparameters or can it recover from overfitting after a few epochs ?
I'm also new to Deep Learning and I'm trying to have a sense of the numbers. We are talking of overfitting when the training loss is lower than the validation loss, right. But by how much ? If the difference is around 0.1 is it overfitting ? 0.2 ? 0.5 ?
And one last question I swear


Is there a technique to train our model on lots of epochs and saving the weights after each one so we can go back to the state where the model was the better ?
Let's say that we train on 50 epochs but after epoch number 34 our model start to overfit. Maybe I want to go back and use the weights the model had at epoch 34 without restarting from scratch.
Thank you very much !