I wrote some starter code to generate a CSV file that can be imported directly into Anki to create a deck based on the notebook that's being created in out study group.
This code through the notebook and for every Level 3 header or below attempts to create a new card. The card front will be the code examples contained in the section. The card back will be the header of the section saying what the symbol is, and all the code output/answers. The goal is to remember both the symbol names AND what they do. For example one card looks like this:
Card Front:

Card Back: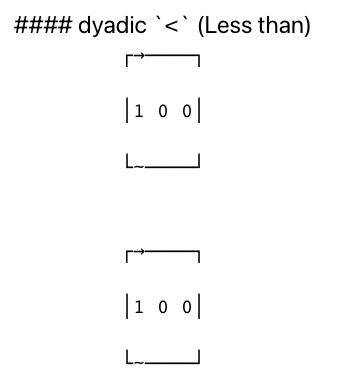 Things that could be improved/done differently:
Maybe this could be run through CI as something to be kept up to date and available as part of the apl-study repo
Handle the exception when there is no code output. Probably several other code improvements could be made by studying nbprocess and seeing how they deal with notebooks.
Could consider creating a separate card for each code example, instead of 1 card for each section.
Could try to optimize formatting to make cards more aesthetically pleasing
There is another import format that's not csv. Is that feasible to use and more flexible?
Could try writing it in APL
If I end up using Anki a bunch I will put more time into it, but for now it's good enough for me. I want to try using Anki for a while so I have a better idea of what would be helpful before I do too much and this gets me started. If anyone improves on this please share here for everyone to benefit!
import json
import pandas as pd

nb = json.load(open('APL.ipynb'))
front = ''
back = ''
cards = []
for cell in nb['cells']:
    if (cell['cell_type'] == 'markdown') and ('###' in ''.join(cell['source'])):
        if front != '': cards.append(pd.DataFrame([[front,back]]))
        back = '<br/>'.join(cell['source']) + '<br/>'
        front = ''
    elif cell['cell_type'] == 'code':
        front = front + '<br/>'.join(cell['source']) + '<br/>'
        
        try:
            back = back + '<br/>'.join(cell['outputs'][0]['data']['text/html']) + '<br/>'
        except:
            pass
pd.concat(cards).to_csv('deck.csv',index=False,header=False)