Hello,
I want to implement an image classifier in pure Tensorflow to understand better what is going on under the hood. And since I have a significantly easier access to a 24-core (2 socket) machine, then to a AWS p-something instance I decided to try out tensorflow on CPU-based machine. I compiled it with AVX instructions, but without MKL and without special memory allocator.
What I learned is that training performance of my model is significantly lower than I would expect. Comparing it to running the same model on p2.xlarge instance, the CPU machine is 6 times slower. And the reason, as I see it, is although I ask to use all the 24 cores, the actual system utilization is around 5-6.
In htop the utilization looks to change in waves. At some point all the cores are occupied, but this hold for relatively short period of time. And in the end of epoch only one core is occupied. On the scale utilization has a saw-like pattern.
I have couple of ideas how I can reduce the effect of low utilization. For example I can start using MKL, to speedup the serial part of the code. Or I can add data augmentation (as I intend in the future) to give more work for the stalling cores.
But what I would like to learn in this post is how to design an architecture, which produces less load imbalance. And is there a way to reduce serial part of the code by changing model architecture?
Now I will try to give more detail about my model. I use DCGAN with semi supervised learning is in "Improved Techniques for Training GANs". I changed the exact implementation of both discriminator and generator, because my dataset consists of 300x400 pixel images. And in tensorboard graph it seems that the most time is dedicated to updating gradients in the generator (see picture)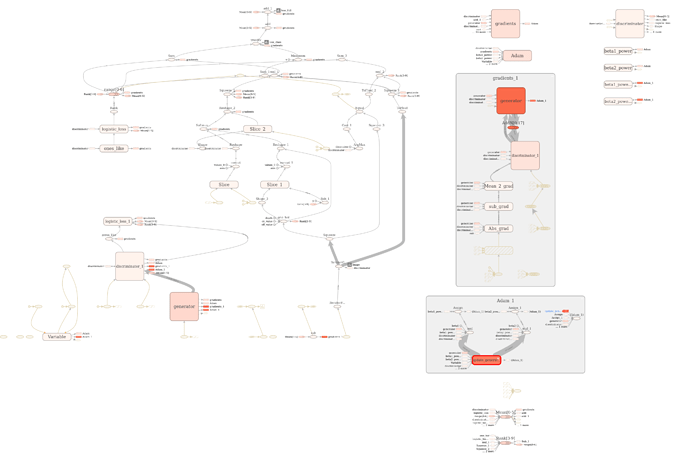 . Compute time for update_generator block shows 17s out of 19. The code for generator please see
here