Hello
how to join this course please?
Just keep an eye out here, this is where we will discuss everything! And I will post when the livestreams are up and available to come watch
Sorry, Zachary I got a problem with DataBlock error. The earlier code work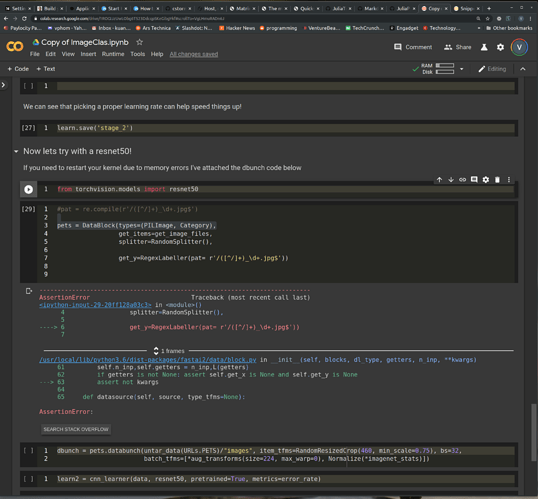 resnet34 but the one with resnet50 throw assertion error.
@vanh Try going and copying the DataBlock code from earlier in the notebook and seeing if that works down there again. If so let me know and I'll make that adjustment
Ah I see now. They changed a few of the datablock's code and I adjusted the first but not the second! Changing now
Thank you for pointing this out to me!
Try it the earlier one work. What's the difference?
In the earlier days of the library development instead of ImageBlock and CategoryBlock we had PILImage and Category
Great thank for the info. I'll try other lessons later.
Thank you so much for this initiative, very much appreciated. Looking forward to it.
I am probably being too nitpicky, but when you say "PETs" I first think of PET scanners
. Maybe just say Oxford Pets?
I am looking forward to the livestream and following along!
Perhaps Oxford Pets could be better. I just always remember putting in URLs.PETS and it got stuck in my head LOL
And thanks!!!
Is there a signup or registration for this?
@lowcountrypj Nope, just come join the stream
We'll use this thread for the discussion and I'll post whenever the streams go live
@vanh I kept that there as the 1.0 example (see the comment about do not run…
)
sorry for that, you should comment them out though
I decided to keep them there as the goal is a direct comparison, and the notebooks weren't designed to be run as a script. Instead to learn the comparisons and it's easier to read when they are not commented out And instead have a very big all capitol comment at the top saying "Do not run."
These notebooks also are not the course notebooks, those will look very different in a few places. This is recommended for catch up
I'm usually do a restart and run all just to check if everything work.
Which again, they are not designed to be like that. That is intentional
I do appreciate the check though. All but a few notebooks are fine now and I know where those issues are, and I will have them fixed by the start of this next week. (And the errors are very small, you should be able to figure out how to fix them after going through the notebooks if anyone doesn't want to wait)
Thank for alert for that.
I think this depends on how many followers do you have (think >1000). Better to check this by yourself.