Hi there,
So far I have run the notebooks on Google Collab as here free GPU service is provided. Now in notebook 2 at 'Turning Your Notebook into a Real App' Jeremy explains how to apply Voila by replacing the word ' notebook' to ' voila' in the webbrowser url


According to some topics I found that Voila is not available for google Collab, is this correct?
So instead of via Google Collab I run Voila via Jupyter Notebook. I tried to upload two example scripts by putting them on the local jupyter notebook folder and then push them to github, as suggested this topic .
install and run everything locally on my machine (worked without a problem)
upload the code to GitHub
run it on binder
C:\Users\jorri\fastbook\clean\Github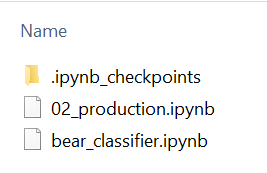 But I run into an error when I try to upload these .ipynb files to github via the windows terminal.

I googled this error and tried to use the http link instead of the ssh link from Github, but this does not help me any further.


Does anybody have tips how to continue?
Thank you, Jorrit