Hi! Quick q. I went back to Lesson 1 and wanted to get the dog/cat predictions on a new image using the model we built (learn, from the 12th notebook code block). Let's say I want to predict the score for this one I found on the internet.
!wget http://d2trtkcohkrm90.cloudfront.net/images/emoji/apple/ios-10/256/dog.png dog.png 
img = plt.imread('dog.png')
plt.imshow(img);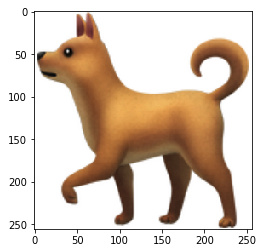 I wasn't totally sure how to predict on a new image but I played around with the code and tried out:
learn.predict_array(img)
But then I got this strange error:
RuntimeError: running_mean should contain 256 elements not 1024
Thoughts on how to debug this? Am I using the wrong command to predict? Let me know if this isn't reproducible.