I have a guess, probably incorrect, regarding the behavior of gradients.
In the most first iteration of a NN, we just guessing our weights. Looking at some specific weight it should be pretty far from its final value. I expect the most first gradient of this weight must be pretty big, atleast bigger than 1. For example, like in Jeremy's picture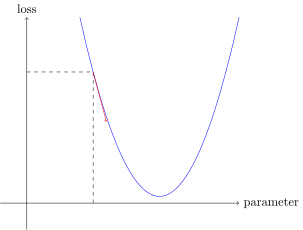 We see here the slope is bigger than 45 degrees -> the gradient is more than 1.
I want to explore it. I took 3 or 4 different models from the fastbook courses and still can't find gradients (absolute values) more than 1.
For example
def abs_10_power(x): 
    return (x.abs() + (1e-30)).log10().flatten().numpy().astype(int)

class GradCallback(HookCallback):
  def __init__(self): super().__init__(is_forward=False)
  def before_fit(self): 
    super().before_fit()
    self.out_grads = L()

  def hook(self, m, i, o):
    self.out_grads.append(abs_10_power(o[0]))

path = untar_data(URLs.MNIST_SAMPLE)
Path.BASE_PATH = path
dls = ImageDataLoaders.from_folder(path)
learn = cnn_learner(dls, resnet18, pretrained=False,
                    loss_func=F.cross_entropy, metrics=accuracy)

gcb = GradCallback()
learn.fit_one_cycle(1, 0.1, cbs=gcb)

pd.Series(gcb.out_grads, name='batch_grads')\
  .apply(np.max).to_frame('log10_max_grad')\
  .reset_index().rename(columns={'index': 'iteration'})\
  .plot.scatter('iteration', 'log10_max_grad');