I am facing a weird problem which I am not being able to explain. I have an image dataset which I am training on. Training results are quite good and do not seem to be overfitting as validation loss is comparable to training loss.
data = ImageDataBunch.from_csv(path_train, csv_labels=path/'train.csv', ds_tfms=get_transforms(), size=32, bs=128
                                  ).normalize(imagenet_stats)
learn = cnn_learner(data, models.resnet34, metrics=error_rate)


The confusion matrix is also quite good.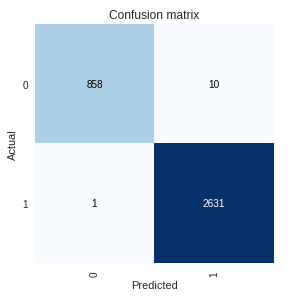 Now when I am trying to make predictions for the whole training set, my results are pathetic which is really bizarre because this is the same dataset on which I trained my near accurate model.
learn_pred = load_learner(path_train, test=ImageList.from_folder(path_train))
preds_train, y_train, losses_train = learn_pred.get_preds(ds_type=DatasetType.Test, with_loss=True)
The ROC area under curve is under 0.5 and the confusion matrix is very poor.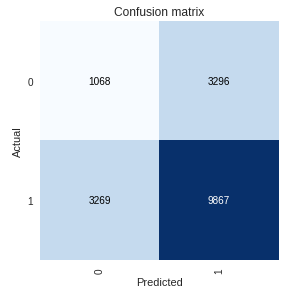 Next I tried normalizing the data before callingget_preds() with the same results.
tfms=get_transforms()
test_data = (ImageList.from_folder(path_train)
.split_none()
.label_empty()
.transform(tfms, size=32)
.databunch()
.normalize(imagenet_stats))
I even called predict() for each individual image and got the same results.
pred = []
for img in test_data.train_ds.x:
    pred.append(learn_pred.predict(img))

I am failing to figure out what I am doing wrong. Would really appreciate if someone could guide me.