Hi all,
I desperately try to visualize the metrics during a training using widgets!!!
Here are the metrics with a standard jupyter notebook cell --> OK

Now using widgets.Output() --> Not OK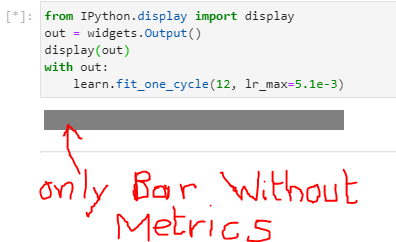 The training is correctly done but without visualization of the metrics.
Maybe the Output() widget is not the correct one to use to solve my problem, but I don't see any other solution.
The final goal of my project is to visualize the training process through ipywidgets (or ipyvuetify) and voila.
Almost everything is fine
…except this part which is mandatory for me
I hope someone can help or guide me.
Thanks in advance and have a nice and safe "happy new year" to all !!!