Hi,
I created 5 classes of fruits and uploaded to my GCP based fastai setup as below.
I just have train folder and do not have valid and test folders (which I believe are optional).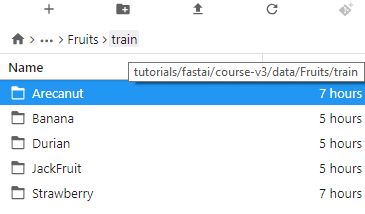 But whenever I try to create the ImageDataBunch as below,
sPath = '/home/jupyter/tutorials/fastai/course-v3/data/Fruits' data = ImageDataBunch.from_folder(path=sPath, valid_pct='20', size=224)
I get the error
IndexError: index 0 is out of bounds for axis 1 with size 0
Can anyone help, please?