Hi all, I'm Nival from Sri Lanka. I'm a bit behind in the course, but trying to catch up, and this break to the official course is a blessing! I tried going thru Jeremy's beginner guide to NLP, and applying the same approach to a Abortion stance tweet classification problem. The dataset was available already in Huggingface. I thought starting with a simple problem will get me somewhere. I don't yet understand transformers fully(not even close), but I was able to classify those tweets into 'for', 'against', and 'neutral' on abortion, with an accuracy/F1 score of 77% by fine-tuing "DistilBert" language model, which is similar to Bert, but smaller.
I also used a lot of help from Chapter two of the NLP with transformers book
I guess for a noob like me, it's a decent result. So all the credit to Jeremy and the authors of the book.
I think I could definitely improve the result. It was amazing to see that a similar dataset was used as part of a competition called SemEval-2016, in 2016, and the winning model, called 'DeepStance' was only 63.23% accurate in the same task.
Confusion matrix: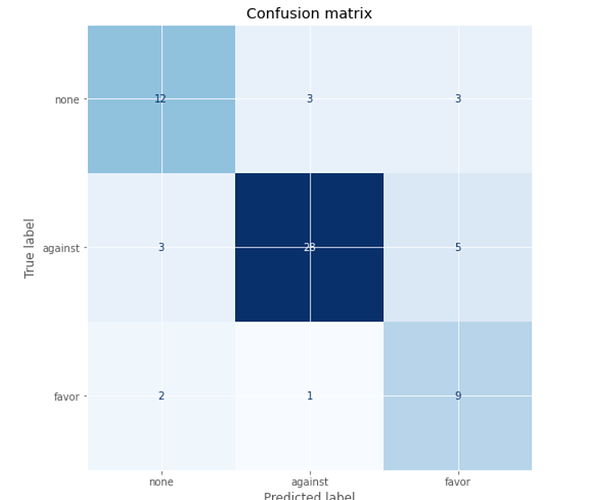 My learnings:
Getting started and successfully solving a simple NLP task
Little bit about how transformers work
Experimenting with different learning rates
Logging my results on W&B and sharing my model via huggingface hub
Future plans
To experiment with different language models
Creating an inference API to my model on hugginface, which will give it a GUI interface
Kaggle Notebook: Abortion Tweet Classification with 🤗 & FastAI | Kaggle
Github repo: nival-aiblog/2022-05-31-Abortion.ipynb at master · truthdead/nival-aiblog · GitHub