In my practice for lesson 1 and 2 I try to tweak the input to the learning function. All to improve the accuracy for image classification.
The practice dataset (histopathology) contains about 200.000 images. The validation set contains 25-30% and the remainder is for training. It didn't seem to make a big difference whether I used 75% or 100% of the data (about 0.003% on auc).
Besides tweaking the training sample size I tried to change:
the number of epochs
number of epochs before unfreezing()
the learning rates with max_lr and lr_range(slice())
using a very small learning rate AFTER unfreezing: learn.unfreeze() slice(1e-07,1e-05) for example.
data augmentation (playing with brightness(), contrast(), jitter(), flip_vert, rotate())
The difficulty is that the decrease in loss comes to a standstill or fluctuate around the same level after about 3 epochs anyway. The 'tweaks' seem nuances not relevant to the outcome. So I'm not sure about my influence on the validation loss after 'playing' with the input.
The experiments brought a couple of 'thoughts':
augmentation is of little use, because the size of the training set offers sufficiently diverse input?
what is the best moment to unfreeze the more basic layers?
how do sample size and number of epochs relate?
should I consider learning rate smaller than 1e-06?
why is the learning rate 'flattening out' on the graph towards the left (1e-06) all the time after 2 epochs? Does it suggest that only small improvement are to be expected?
is there some sort of a pipeline procedure to try different augmentations on a subset of the data? I've recognized that extreme augmentations don't work, but the remainder I'm not sure.
The metrics over the first two epochs: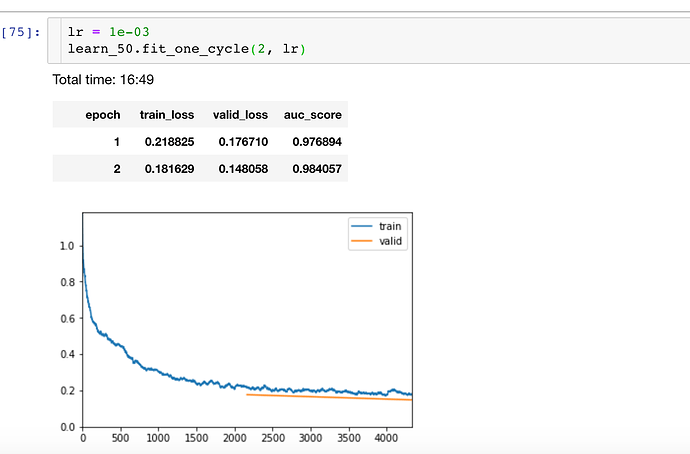 The learning rate after two epochs: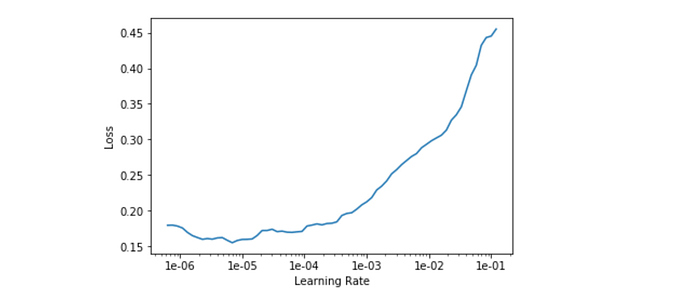 Last questions, how do I interpret the following picture on the third epoch? It seems like the learning process takes a detour into a useless area, wasting many batches of input?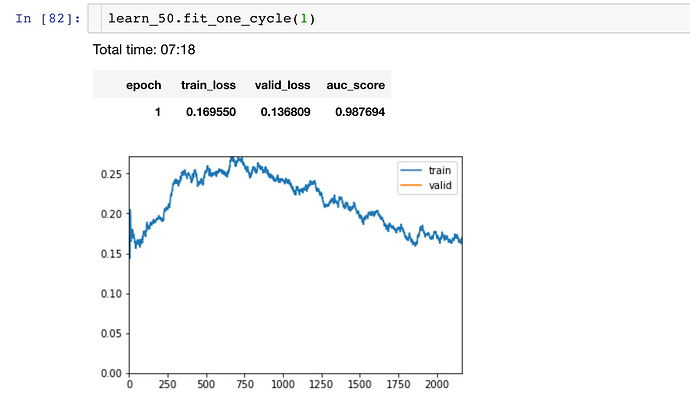 Anyway, I try to optimize use of these parameters and understand it.
Currently I'm at the top 7% of the Kaggle competition, but I feel like I'm not improving despite using more data, different learning rates and data augmentation. I ran into the the pics above a couple of times now. The approach to my best score felt kinda generic (or maybe just the result of an simple/efficient and underappreciated FastAI library
)