Hi,
What's the logic behind the if condition in the below code?
My understanding :
Line 5 : path.exists() - Returns True
Line 5 : not path.exists() - Returns False
Line 5 : if not path.exists() - Isn't it the same as if False ??
So, when if not path.exists() is False - How would the next line of code path.mkdir() execute??
Also, can we use the code path.mkdir(exist_ok=True) instead of
if not path.exists(): path.mkdir()
What is the difference between the 2 codes?
Line 11 : results=search_images_ddg(...) - In this code - we are not specifying the path to the individual directories of the 3 Categories of bears (grizzly,black,teddy). Then how are the images fetched & stored in the respective folders??
Can anyone please help me understand all the above??
Another issue with the above code :
This code is not working most of the time i.e. It is returning 0 images most of the times which can be confirmed using the below code :
fns = get_image_files(path)
fns
fns returns this : (#0) []
Only once did the code work fine returning 282 images.
This behavior is seen when I am trying the code in the Jarvis Labs console.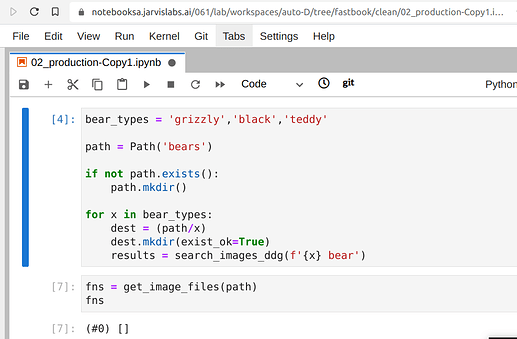 However, when I try the same code in Jupyter Lab locally its working fine & returning ample images.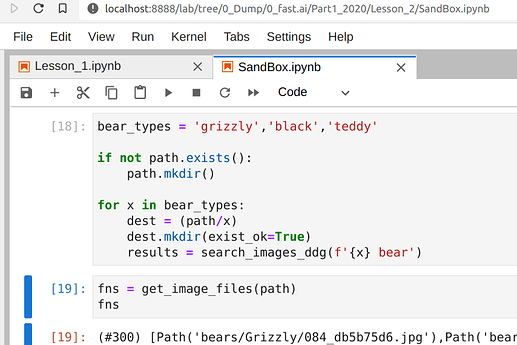 Could anyone please guide me the reason behind the variation in results of the same code in different scenarios!!
Thanx in advance!!