Hey guys,
I have completed first two lessons and I'm having some doubts in those.Please help and Thanks in advance.
Everytime I run the code from start I'm getting different answers.(Note :I'm using Co-lab and I'm resetting the runtime everytime i start)

Why we are doing 4 epoch while freezing and 2 epochs after unfreezing it??Why don't we just unfreeze the model in the start and do some 3-4 epochs.

How many images for each class do I need in general??

When I was running the given Lesson-2 notebook the Error rate was constant for 2,3,4 epochs and I dont understand why??

I was trying to replicate the Lesson 2 with exactly same type of dataset but of flowers with 5 Classes and about 700-1000 images in each class.
(I downloaded the dataset from Kaggle.)
I got about 92% accuracy and my Confusion matrix showed its having problem identifying between Tulips and Roses(Both look similar to each other)
How do I solve this problem? and Whats the Max accuracy I can try to get?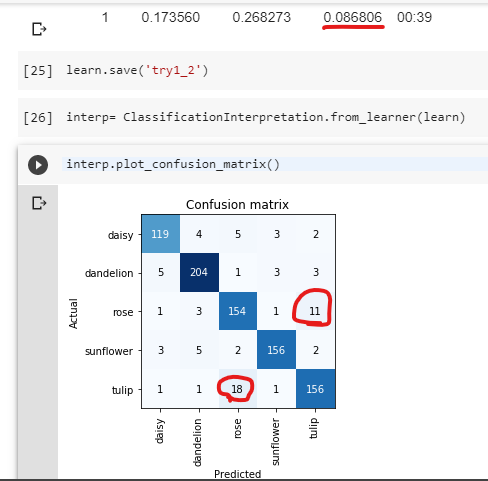 After completing first two lessons I tried to implement the same on similar data set ,what should I do next??
Should I practice with more datasets and dig deeper (or)Should I move to next lesson?
Thank you.