I'm trying to create a resumable workflow when generating images. Basically here what I'm trying to do:
We are getting an image with 50 steps
Instead of waiting for 50 steps, I'll abort & get latents on the 20th step
Then if I want, I will resume the rest of the steps
I tried to do it but somehow it won't produce the original result when resumed. See: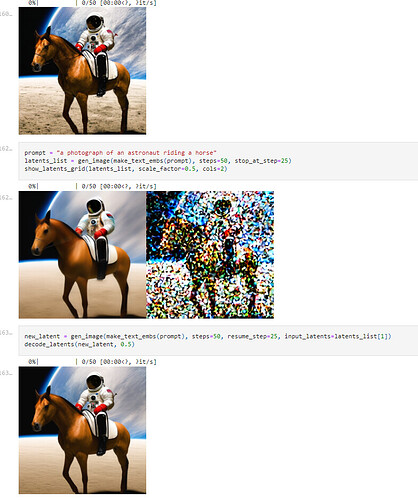 1st image is the image after 50 steps
2nd set of images are the intermediate latents
3rd is the after I resumed
Here's the code for the generation:
def gen_image(text_embs, height=512, width=512, steps=50, gd=7.5, seed=100, get_all=False, return_preview=False, stop_at_step=-1, input_latents=None, resume_step=-100):
    torch.manual_seed(seed)
    latents = torch.randn(len(text_embs)//2, unet.in_channels, height // 8, width // 8).to("cuda").half()
    
    scheduler.set_timesteps(steps) 
    
    if input_latents == None:
        latents = latents * scheduler.init_noise_sigma
    else:
        latents = input_latents
    
    latents_list = []
    
    for i, t in enumerate(tqdm(scheduler.timesteps)):
        if i < resume_step:
            continue
                
        input = torch.cat([latents] * 2)
        input = scheduler.scale_model_input(input, t)

        # predict the noise residual
        with torch.no_grad(): pred = unet(input, t, encoder_hidden_states=text_embs).sample

        # perform guidance
        pred_uncond, pred_text = pred.chunk(2)
        pred = pred_uncond + gd * (pred_text - pred_uncond)

        # compute the "previous" noisy sample
        updated_info = scheduler.step(pred, t, latents)
        latents = updated_info.prev_sample
        
        if stop_at_step == i:
            return updated_info.pred_original_sample, latents
        
        if get_all:
            latents_list.append(updated_info.pred_original_sample if return_preview else latents)
    
    if get_all:
        return latents_list
    
    return latents

And here's the complete notebook.
Any idea on why this is not working well?