I had tried a standard method to train resnet18 for cifar10. The codes are below.
import matplotlib
matplotlib.use('svg')
import matplotlib.pyplot as plt

import numpy as np
from fastai import  *
from models import *
import pandas as pd
from fastai.vision import *
path =untar_data(URLs.CIFAR, 'data/data11752/cifar10.tgz')
from fastai.torch_core import defaults
print('device',defaults.device)

databunch=(ImageDataBunch.from_folder(path,valid='test',
                                     size=32,
                                     ds_tfms=get_transforms(),
                                     bs=128,) # ds_tfms=[rand_pad(4,32),flip_lr(p=0.5)]
            .normalize(([0.4914, 0.4822, 0.4465],[0.2023, 0.1994, 0.2010])))

learner = cnn_learner(databunch,models.resnet18,path='work',metrics=error_rate,callback_fns=[callbacks.CSVLogger])
learner.fit_one_cycle(1,0.1,wd=5e-4)
learner.unfreeze()
learner.fit_one_cycle(50,0.01,wd=5e-4)
learner.save('stage1')

With the help of ClassificationInterpretation, I found automobile is classified as cat.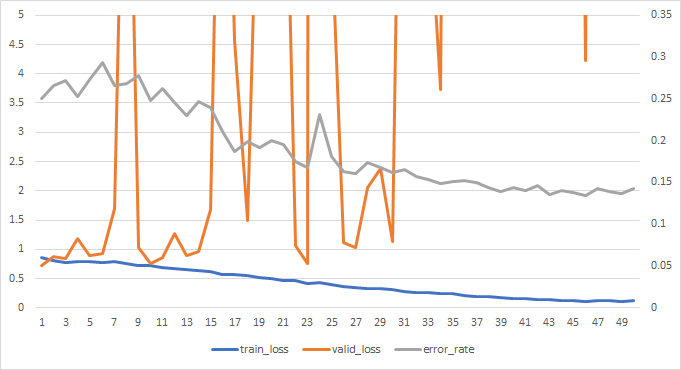 The valid loss is extremely high. It seems like the model is overfitting.
What caused this? And how to solve it?