Transforming from Signal to Spectrogram is much faster as show in the graph below. When I baked it into the v2 api, I got strange results with CPU epochs trippling. More details of this can be found here.
GPU vs CPU Audio To Spectrogram
I crop the signals before allowing the gpu and cpu convert them to spectrograms.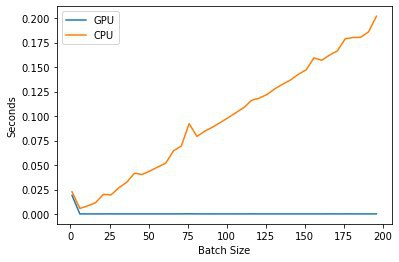 Spec Augment
In the post above you can see the methods I have created for specaugment. The vectorised one is slower for some reason.
Shift / Roll
I haven't tried these yet but but now that I've done Spec Augment I think that they are probably vectorisable
Questions
As @MadeUpMasters has said, where should the transforms be going and as they are random, should they be extending the class RandTransform.
Generally where would you see the GPU Batch Transforms being placed.
@MadeUpMasters has created pre-setup audio configurations for different classifcation problems. How can we further improve the lives of beginners when approaching audio classification?
Many of the pre-processing transforms (Cropping, Removing Silence, Resampling) are not randomised and could be preserved. Considering that they took a long time before we decided to cache them in fastai_audio v1 . This was quite messy in implementation with the old API but I believe that it coudl be much cleaner with the new API. What are you thoughts on this?
We've mainly focused on classification and therefore Spectogram generation as that seems to be the SOTA approach but there is a huge potential for using RNN's for ASR etc. In your mind what is the scope of the fastai audio module, how many audio problems should we tackle?