---
Name: The German Traffic Sign Recognition Benchmark
Task: Image classification
Training size: 39,209 images (263 MB)
Test size: 12,630 images (84 MB)
Number of classes: 43
State of the art (2011) [1]: 99.46% ("Committee of CNNs")
Human performance: [2] 98.84%
---
My attempts
Lesson 1 VGG-16: 62.15%
Notes: (12 epochs) (2016-01-09) (fine-tuning)
My notebook
Lesson 3 VGG-style CNN with batchnorm: 93.51%
Notes: (1 epoch) (2016-01-17) (see TODO) (no fine-tuning; i.e. random initial weights)
Similar to the CNNs in the lesson 3 MNIST notebook
Lesson 3 VGG-style CNN with batchnorm: 97.58%
Notes: (30 epochs) (2016-01-18) (the same as the above network)
---
Image format caveat
The images are in the PPM format, which appears to be incompatible with Keras. I used the following code to convert them to PNG. It took about 45 seconds. The first wildcard is for the image folders and the second is for the images:
         mogrify -format png */*.ppm

Image "track" caveat
For each physical sign recorded, thirty images were taken. Each set of images is called a "track". It's important to keep the images of a track together when splitting the data into a training set and a validation set, otherwise the validation accuracy will greatly overestimate the test set accuracy.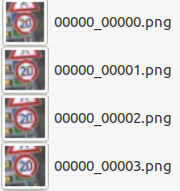 Jupyter collapsible headings
It's convenient to be able to collapse sections of a Jupyter notebook. Here's a way to enable this feature:
conda install -c conda-forge jupyter_contrib_nbextensions jupyter nbextensions_configurator enable --user
Go to http://localhost:8888/nbextensions
Check the box next to "Collapsible Headings"
(Jupyter notebook extensions documentation)
---
Thanks to Jeremy and Rachel for lesson 1 and for demonstrating the Jupyter collapsible headings feature.