Hi all,
I am on the Chapter 2 - Production of the fastbook, and noticed some weird behaviour with the show_batch() function.
In the following code, I keep getting the images with the wrong labels:
bears = DataBlock(
    blocks=(ImageBlock, CategoryBlock), 
    get_items=get_image_files, 
    splitter=RandomSplitter(valid_pct=0.2, seed=42),
    get_y=parent_label,
    item_tfms=Resize(128))

dls = bears.dataloaders(path, num_workers=0)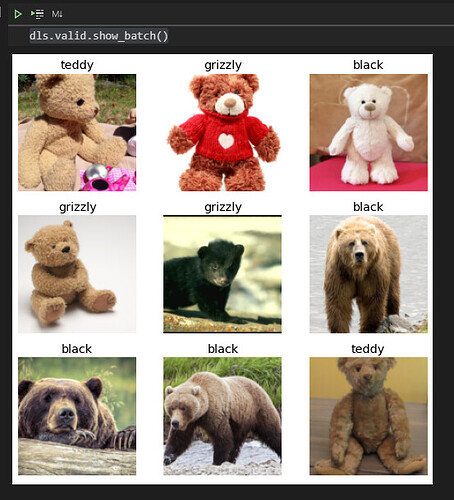 I double checked and the images are in the correct folders (i.e. the teddy, named grizzly are actually in the teddy folder).
Also, whenever I try the batch transformations, I get an IndexError when running the show_batch() afterwards. I guess this might have to do with the fact that I'm in a windows environment (I had to set num_workers=0 in the dls to make the training work).
My lib versions:
fastai 2.1.10
fastbook 0.0.16
fastcore 1.3.19
torch 1.8.1
torchaudio 0.8.1
torchvision 0.9.1
CUDA 11.3
Any ideas of what might be wrong?
Thanks!